How to train tomorrow's skills?
For secondary schools, universities and business schools, various collaborative projects are active with the aim of training and accompanying the future workforce in the company, experiencing live the reality of the Model Company and becoming familiar with lean methodology and digital.
In collaboration with the Autonomous Region of Friuli Venezia Giulia, the first PCTO project (Percorsi per le Competenze Trasversali e l'Orientamento, ex Alternanza Scuola Lavoro) was created, aimed mainly at the third, fourth and fifth classes of all high schools, technical/commercial and professional institutes in the region.
LEF is an ideal and neutral PCTO environment as: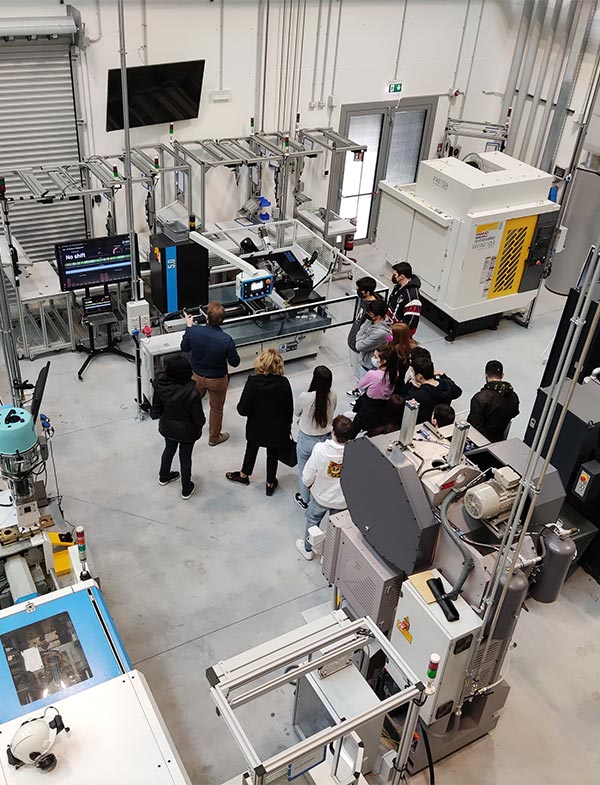 Thanks to the world's largest and most integrated digital model company, LEF enables students to receive guidance on future job prospects and get hands-on experience with the most advanced technologies on the market today and that can be found in companies.
LEF is a real meeting point for students to understand the 4.0 skills needs of companies and provide concrete and tangible orientation for the workers of tomorrow.
As part of the PCTO project, the following training paths are planned:
for the third classes it is possible to choose a 2-hour online path of introduction on lean methodology or Industry 4.0, during the training webinars the fundamental concepts behind the two main topics are analysed and numerous practical examples of real application are presented.
for the fourth classes, in-person training days are offered with a choice of four different topics: lean in the office, lean in the factory, industry 4.0 in the office, industry 4.0 in the factory. During the training day in the Model Company, the basic principles of lean and Industry 4.0 are covered, followed by active observation of the office or Model Factory and then practice with the re-layout of the office area or assembly line.
for the fifth classes, there will be an in-depth lesson on lean tools or Industry 4.0 technologies, lasting a total of 3 hours in the classroom.
To make a booking you can select the dates available in the calendars below, for more information please fill in the "Would you like to know more" form.
"*" indicates required fields